THE BAND FROM SZÁSZCSÁVÁS
AN EXTRAORDINARY
"WORLD MUSIC" EXPERIENCE
THE BAND FROM SZÁSZCSÁVÁS
Hungarian Gypsy Musicians from Transylvania
"…the musicians obvious enjoyment and dynamic presentation transported the audience…The csardas dances and the three encores sent the audience into clapping spasms and delighted cheering."
The Washington Post
The Hungarian Cultural Center, New York
in association with Centrum Management
presents
THE BAND FROM SZÁSZCSÁVÁS
Hungarian Gypsy Musicians from Transylvania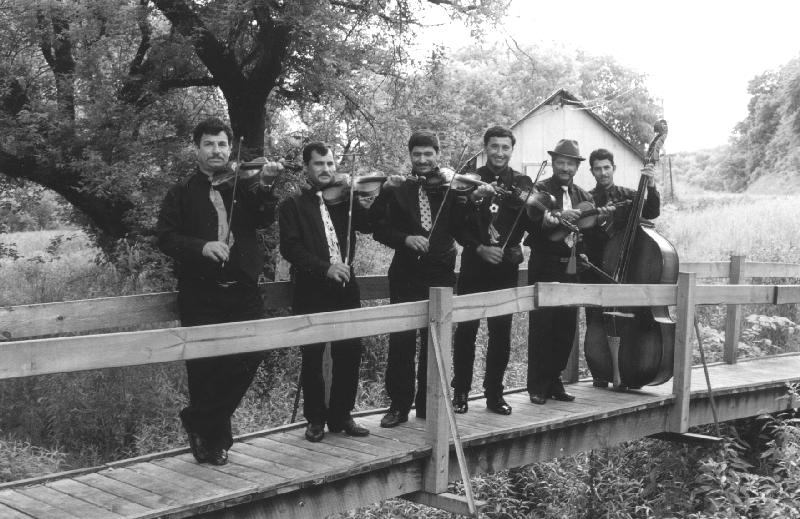 For Americans, Transylvania seems almost like a fictional land of myth and magic. A Disneyesque world, where colorful villagers merrily weave their garlands of garlic to keep vampires away.
The reality, of course, is very different. Nowadays, Transylvania – along with the rest of Romania – is rapidly being assimilated into the Coca Cola culture of the west. But just beneath this new, shiny veneer you can still find living examples of the unique, vibrant, almost medieval culture of old Transylvania. The band from Szászcsávás provides a magical musical window to this past.
Szászcsávás [Ceuas in Romanian] is a small village in Southwest Transylvania. Of the less than thousand inhabitants, most are Hungarian but about a quarter are Gypsies, including all the members of the Szászcsávás Band. On their American tour, the band will play only stringed instruments to revive the style of music popular a generation ago [nowadays electronic instruments are displacing the traditional sound even in this remote village].
The core of the band on this tour consists of the lead fiddle [primás], István Jámbor, his brother, Mátyás Csányi on bass and their brother-in-law Ferenc Mezei playing kontra. They have been playing together for 30 years. The band is filled out with younger players, Ferenc Jámbor and Levente Mezei, all relatives. In addition to their main instrument, the musicians also play all other instruments in the band and most of them are outstanding dancers as well.
The repertoire of the Szászcsávás Band is unusually large, because they play not only locally, but for Hungarian, Romanian, Gypsy and Saxon villages over a large area of Transylvania. For Hungarians they play the verbunk, csárdás, székely forgatós and pontozó. For Gypsies, they play cigánycsárdás and gypsy székelyverbunk. Among their notable Romanian repertoire is the beautiful de-a-lungu from the Mures Valley.
For American audiences, the Szászcsávás Band represents a unique opportunity to experience first hand the vibrant music of Transylvanian villages. Music that was at the heart of a powerful regional culture. Music that is, unfortunately, on the verge of extinction. Two professional dancers, the first ones to learn the dances of Szászcsávás, Nóra Kertész and András Szöllosi will perform the regional dances of Transzlvania in the program.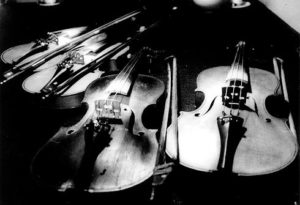 Catch the Szászcsávás Band.
It is a musical experience you will never forget.
FOR INFORMATION AND BOOKINGS:
CENTRUM MANAGEMENT, 178 Oakdene Ave. Teaneck, NJ. 07666
Tel: 201-836-4869 ~ Fax: 201-836-1590
REVIEWS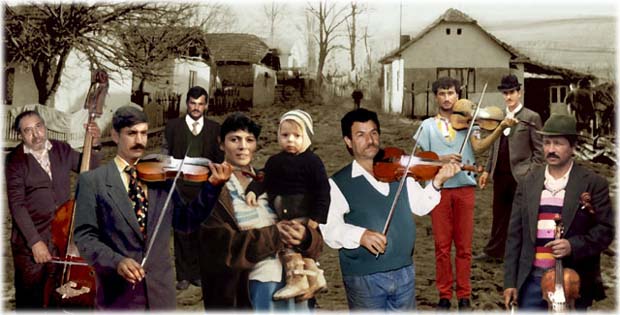 "..spirited fiddle lines that soared on the high notes and featured complex nuances.."
The Washington Post
"…the musicians obvious enjoyment and dynamic presentation transported the audience."
The Washington Post
"…the three encores sent the audience into clapping spasms and delighted cheering."
The Washington Post
"the six men captivated the audience by vigorously sliding their bows across the strings of their violin, violas and bass and creating rapid, lively melody that had people tapping in their chairs."
Record-Journal, Meriden CT
"Many in the audience came to once again feel the energy of the folk music ."
Record-Journal, Meriden CT
'…the group was very authentic and was amazed at the band's skill and technique."
Record-Journal, Meriden CT
"..the performance became an introduction to Hungarian culture."
Record-Journal, Connecticut
"It's wonderful."
Record-Journal, Connecticut
"…members of the Szaszcsavas Band took turn performing Transylvanian Gypsy dances, with much kicking of heels and slapping of legs."
The New York Times