Magos Hungarian Folk Band
 The Hungarian Cultural Center, NY & Centrum Management
present 
MAGOS HUNGARIAN FOLK BAND
 Authentic Folk Music from Hungary and Transylvania
The winners of the 2011 Budapest FOLKBEATS talent search competition. Energetic, youthful and exciting band directly 
from the Budapest Táncház scene.
"Music from our Masters"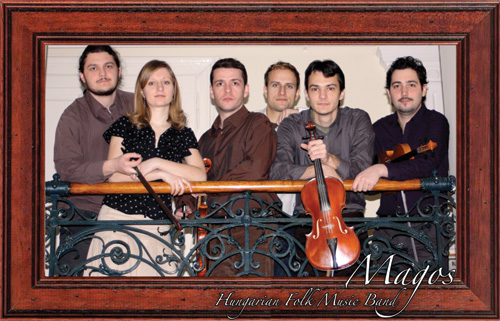 Csaba Soós – violin, Márton Kovács, violin, Ágnes Enyedi – vocal
Tamás Enyedi – cimbalom, Márton Fekete – brácsa, Dávid Horváth – bass
Táncház (Hungarian Folkdance Workshop) will follow most performances
MAGOS HUNGARIAN FOLK BAND
The MAGOS Hungarian folk music band is one of brightest and upcoming stars of the Hungarian folk music scene. They and their generation of folk musicians may be the last links who were still able to learn from the great master of folk music who lived and preserved folk music for decades. Now it is their generation who must keep the authentic folk music alive to pass it onto future musicians. The musical philosophy of the Magos is to learn and present Hungarian folk music in its archaic form and perform it to the young generation. The band was selected by a distinguished group of judges, during 5 months competition, last year in Budapest, during the FOLKBEATS talent search program. This selection was from almost 100 entrants, they the best folk music band citation. Their winning prize was this North American tour.
The MAGOS in their performances will play authentic Hungarian music, it may also be called, Táncház music, from the Carpathian basin which include Hungary, Transylvania and part of Slovakia. Whenever possible the performance will be finished with Hungarian folkdance teaching, the audience may also experience the wonderful Hungarian culture not ONLY listening but also participating.
For more information about the MAGOS band please visit:
https://www.facebook.com/magosegyuttes
http://www.magoszenekar.eoldal.hu
http://www.youtube.com/watch?v=kTaxMJyKimw
http://www.youtube.com/watch?v=bzBLTiWN1Ts&feature=related
http://www.youtube.com/watch?v=cEPKVn98xk8&feature=related
http://www.youtube.com/watch?v=smVrHk135lo&feature=related
http://www.folkbeats.hu/media_magos_interju.html
http://www.youtube.com/watch?v=N3DcZE4gw2w
The Hungarian Cultural Center, NY is supporting the tour of the Ensemble. The Center is dedicated to promoting Hungarian culture and increasing the awareness of the wonderful cultural resources of Hungary to the North American public. The Center is funded by the Bálint Balassi Institute, Budapest.
Tour information:
CENTRUM MANAGEMENT – Kalman Magyar
Tel: 201-836-4869 ~ email: magyar@magyar.org ~ www.centrummanagement.org
Tour Manager: Gábor Dobi
Produced in association with Jamdance Kft., Budapest, Hungary
Magos Hungarian Folk Band Tour – Spring 2012 (click for PDF)