World Music – Village Music – Folk Music – Gypsy Music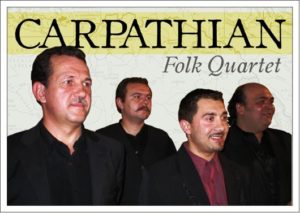 Some of the best musical virtuosi players from Central Europe joined forces
to present the best in folk, village, world and "Gypsy" music. Sándor Kuti
is a cimbalom player who was trained at the famous Rajkó Orchestra, he is a
excellent and versatile musician. Attila Jakab is from Transylvania to Roma
heritage, he learned and played with the famous informants of folk music in
small villages and in 2004 he mesmerized American audiences with his superb
violin playing in the Gypsy Spirit – Journey of the Roma show. This
performance will be an unforgettable experience in music as interpreted by
some of the world's most talented musicians. The other musicians in the band
are also considered best in their field: László Mester, brácsa and Robert
Doór, bass.
FOR MORE INFORMATION:
Kalman Magyar
CENTRUM MANAGEMENT
178 Oakdene Ave.
TEANECK NJ 07666 USA
Tel: 1-201-836-4869
Fax: 1-201-836-1590
Mobil: 1-201-615-9240